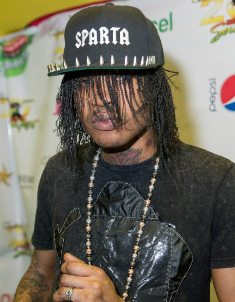 Controversial Jamaican dancehall artiste, Tommy Lee Sparta, who was set to perform in Portsmouth tonight, was denied entry into Dominica this evening.
The artiste's jet is presently on the tarmac at the Melville Hall Airport.
DNO was reliably informed that Tommy Lee is out of the jet and inside the airport's terminal but the authorities have denied further entry.
Main
organizer of the concert Cabral Douglas has confirmed to DNO that the artiste is at the airport and has been denied entry.
Attorney, Tehani Behanzin, who is trying to assist in the matter has been denied access to him, according to Douglas.
It is unknown why Tommy Lee was denied entry.
There is also a contingent of police presently at the airport.
Tommy Lee's performance in Dominica has been harshly criticized by members of the religious fraternity who alleges his music promotes violence.